Click here to use the coupon code SCRAPEBOX to receive a 20% recurring discount! Enter the discount code SCRAPEBOX during the checkout to redeem your discount.
Step 1: Click here to visit MyPrivateProxy!
Step 2: Choose your desired proxy package, then proceed to the "Review & Checkout" page.
Step 3: Enter the SCRAPEBOX promo code into the "Apply Promo Code" field, and click on "Validate Code" button: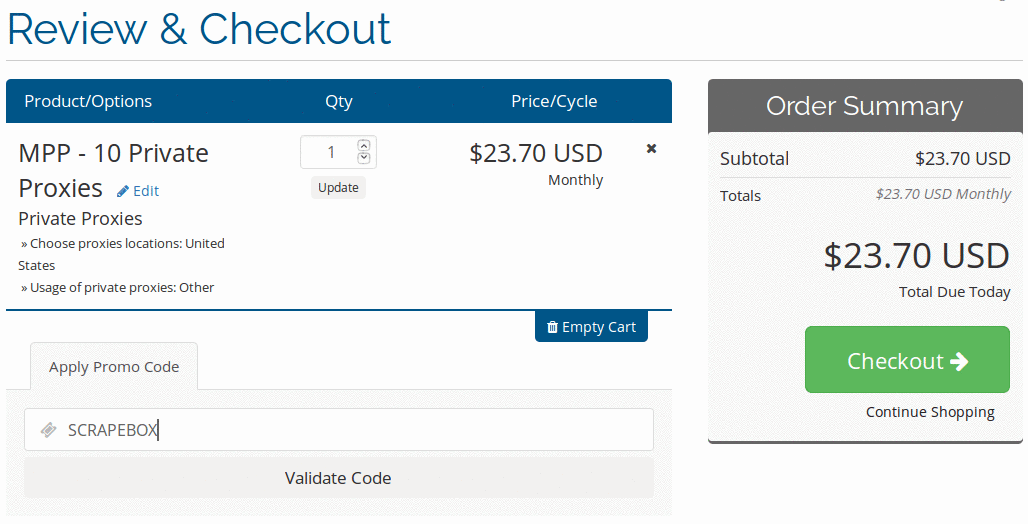 Step 4: Now you should see the "Promotion Code Accepted! Your order total has been updated." message and the discount is now reflected in the total amount. You have just saved 20% recurring!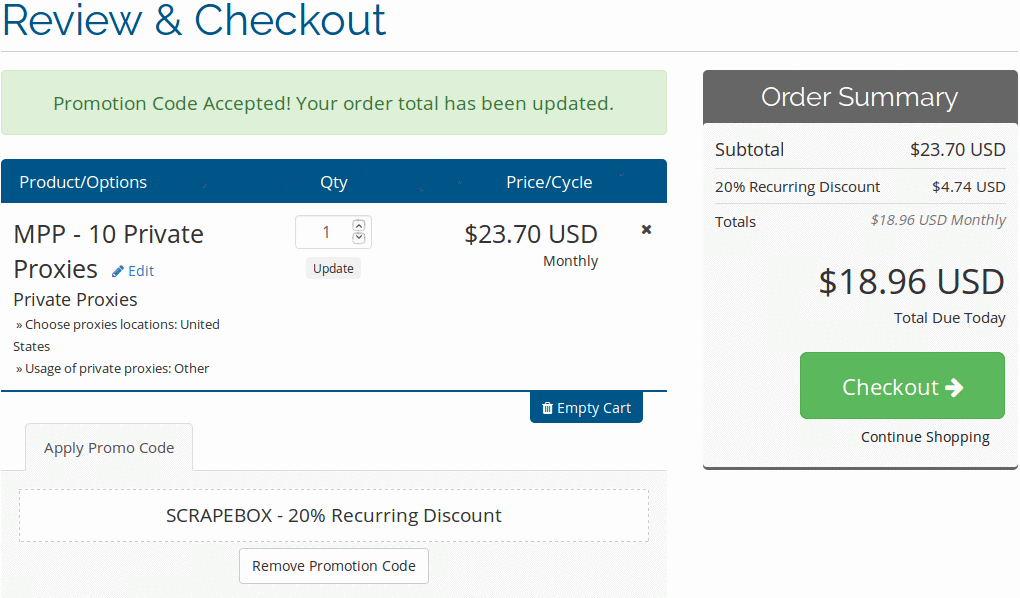 ---
Another great company providing reliable and efficient proxies is the MyPrivateProxy.net. They are very good in Internet marketing, supporting various SEO tools such as Scrapebox, SenukeX, TweetAdder and a lot more. Also, their proxies work greatly with Facebook, Twitter and YouTube. Another thing, you can also post advertisements to Craiglist.
But, services are limited to valid sites only. MyPrivateProxy.net does not provide services to Xrumer, Torrents and does not allow fraud and mailing as stated on their FAQ page. As with other top proxy provider companies, MyPrivateProxy.net does not allow spamming, use of proxies on different porn sites and other online illegal activities as stipulated on the Appropriate Use Policy page.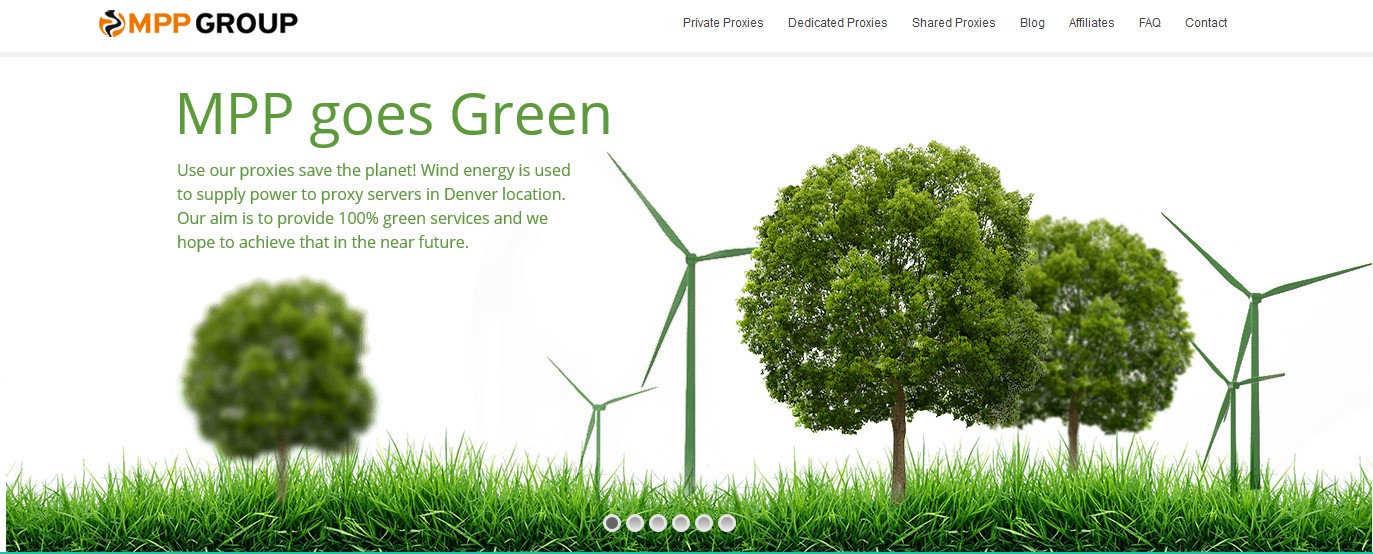 MyPrivateProxy.net provides http/https proxies in both dedicated private proxies and shared proxies. And the company is planning to expand more their reach by adding datacenters and on the recent updates, MyPrivateProxy.net will be offering VPN service soon. Furthermore, their set-up time is really fast. Many of the reviews posted by various customers have attested to the speed of setup connection offered by MyPrivateProxy.net. In a matter of minutes, you can start using your ordered proxies in no time.
Lastly, MyPrivateProxy.net is aiming to provide 100% green services in the near future. In fact, the company has started utilizing wind energy as the main source of energy in their Denver datacenter.
---
MyPrivateProxy.net Features
Multiple Cities, Subnets
Non Sequential IPs
Unlimited Bandwidth
1,000 Mbps speed
99.99% Uptime
Supports HTTPand HTTPS protocol
Proxies are hosted on 1Gbps, XEON servers with 8GB RAM
---
MyPrivateProxy.net Locations
Phoenix, AZ
Dallas, TX
Miami, FL
Scranton, PA
Chicago, IL
Los Angeles, CA
Denver, CO
---
Pricing Plans
The range of prices of both private and shared proxies in MyPrivateProxy.net is well beyond affordable. You can start buying one proxy at $2.49 and the more proxies you buy, the cheaper is the cost per proxy. On the other hand, shared proxy would start at $1 and it will become cheaper. Once you order 2000 proxies a month, the shared proxy will cost no less than $0.65.
If you want more savings, you can grab the opportunity while availing the most current deal in MyPrivateProxy.net. For a limited time offer, a 10% bonus in the amount of proxies you order.
---
Customer Support
Reaching out for their customers in the easiest way possible is one of the main aims of MyPrivateProxy.net. With that, they have provided various options in contacting them. You can submit a ticket through the specified category provided. Or, if you want faster solution to some of your queries, you can have an instantaneous live chat to one of the company's agent at specified times of the day.
In regards with their guarantee policy, you can still enjoy a 3 Day Money Back Guarantee if you found out that the proxies ordered do not work within your standard and purpose.
---
Other Reviews
---
Our Take
MyPrivateproxy.net is on the second place of our list of best companies providing proxies and other related services. With the extensive customer support and efficient proxies and services, no wonder why MyPrivateProxy.net is on our top list. Plus, the fact that the company is aiming to go protect our Mother Nature; it is an amazing fact about the company that cannot be ignored.