Use the SquidProxies promo code bhwonly to get 25% recurring discount. Click here to redeem the bhwonly coupon code and get the 25% lifetime discount. Last tested on March 5, 2020.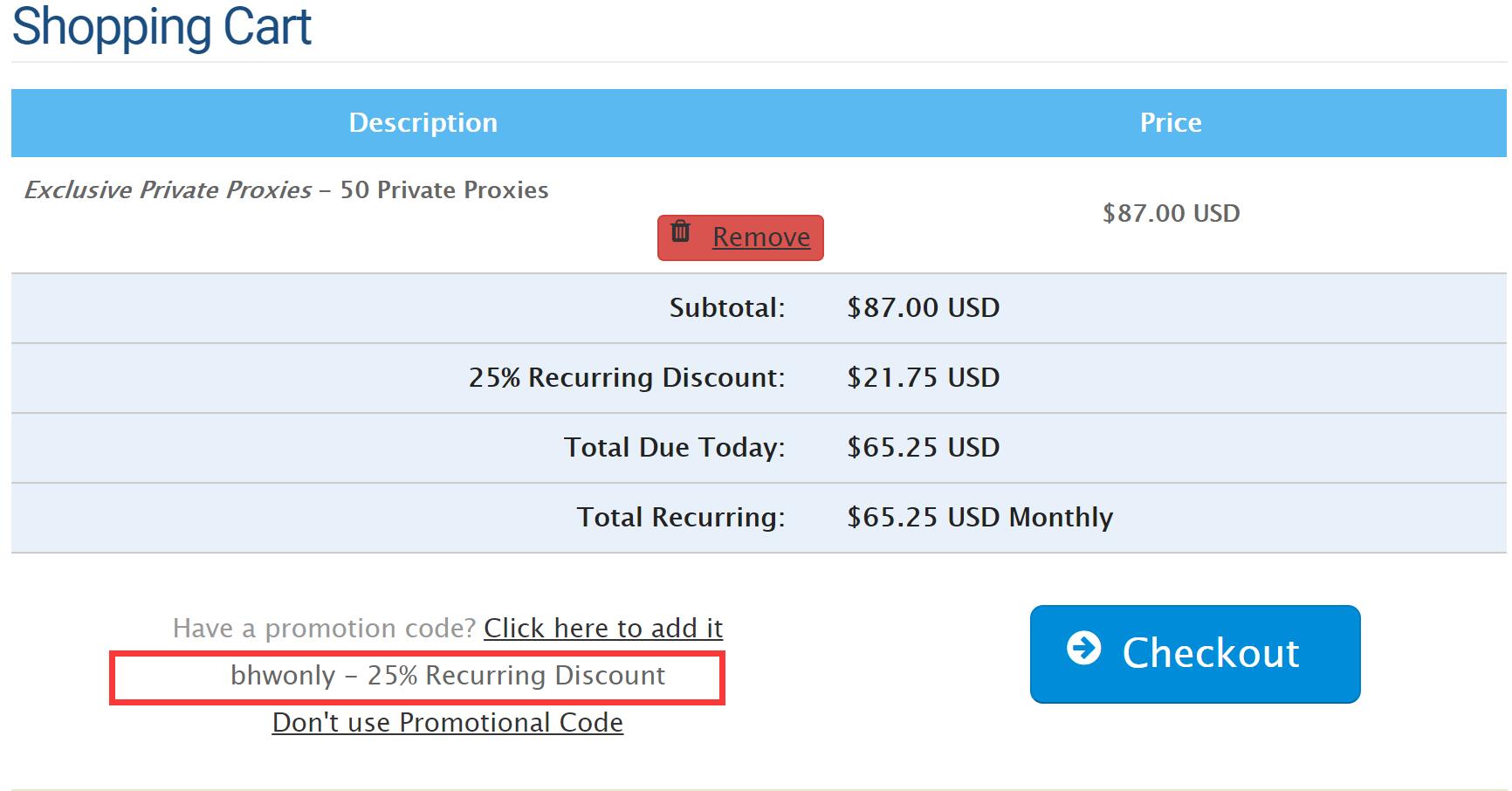 ---
SquidProxies service provides excellent proxy services to all their subscribers for any purposes except while using the black hat SEO forum spamming tool called Xrumer. Anything you want to do online can be made at ease by availing the various services offered by Squid Proxies.

For the ones looking for Scrapebox Proxies, you can find a great deal through Squid Proxies as the company specializes in Scrapebox. In fact, Squid Proxies have relationships in some Scrapebox forums, solidifying the partnership.
While reading SquidProxies' Appropriate Use Policy or AUP, it is clearly stated in there that any form of online spamming activities is forbidden. In addition, all proxies used for Craiglist postings have to use Phone Verified Accounts (PVA). And, since Squid Proxies is a US-based company, all clients are under the jurisdiction of US law. You can, however, choose the proxy servers outside of the USA, which is Romania.
Once you have signed up for any specific proxy package, you will be given a VIP Customer area access so as to freely view your proxies at any time of any day, and add, remove or modify your own IPs at your own pace of time and desire.
---
Squid Proxies Features
Super-Fast Servers
Unlimited Bandwidth
Multiple IP Subnets, Multiple Cities
Non-Sequential IPs
Proxies Update Frequency: Fresh IPs Monthly
Web mailing Allowed: Yahoo, Gmail, AOL, Hotmail
Squid Proxies Locations:
Los Angeles, CA
Seattle, WA
Dallas, TX
New York, NY
Atlanta, GA
Chicago, IL
Scranton, PA
Bucharest, Romania
Pricing Plans
Squid Proxies various price plans for both the Private Proxies and Shared Proxies are really affordable. You can pay for as low as $0.75 per private proxy as long as you needed 2000 proxies in a month.
And, it would only cost $0.65 for every proxy if you order 1000 of shared proxies in a month. The obvious principle in here is the fact that the more proxies you need, the more opportunity for you to acquire those at cheaper prices.
The starting price per private proxy is $2.40 while $1.00 for every shared proxy which are considerably cheaper than their main competitors.
Customer Support
Most of the proxy server companies only provide their respective email as a way for their customers to contact one of their support agents. In this aspect, Squid Proxies provide an amazing email customer support in a fast and more efficient manner.
They are great in providing technical solutions to all queries and updating their services to meet the demands of their clients. Moreover, Squid Proxies provide a full refund within 3 days of ordering if you find the company's services unsatisfactory.
Other Reviews
---
Our Take
If you prefer high quality of proxy services with a cheaper amount of cost, you can guarantee all that using the proxies provided by Squid Proxies.
Their high-speed proxy servers coupled with other excellent technical support and services made us come to the conclusion that Squid Proxies deserves the overall number one spot. Do not waste your time googling around for free proxies, you will be better off with Squid Proxies in the long run.