Enter the ProxyBonanza promo code urbence10percent during the checkout to get 10% off!
Last tested on March 5, 2020. Enter urbence10percent into the "Promo code:" textfield, as shown on this image below: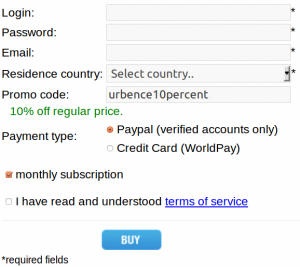 After you entered the ProxyBonanza coupon code, you should see the green "10% off regular price." text (if you have Javascript enabled, otherwise you will only see the discount after you click on the Buy button).
Click here to redeem the urbence10percent 10% discount code.
---
According to their website, ProxyBonanza is located in Poland. There are three categories of proxies provided by ProxyBonanza, and in each category, there are three plans in each, namely, the Lite, Standard, and Bonanza. On the other hand, the three categories you can choose from are the following: Shared Proxy, Exclusive Proxy, and International Proxy.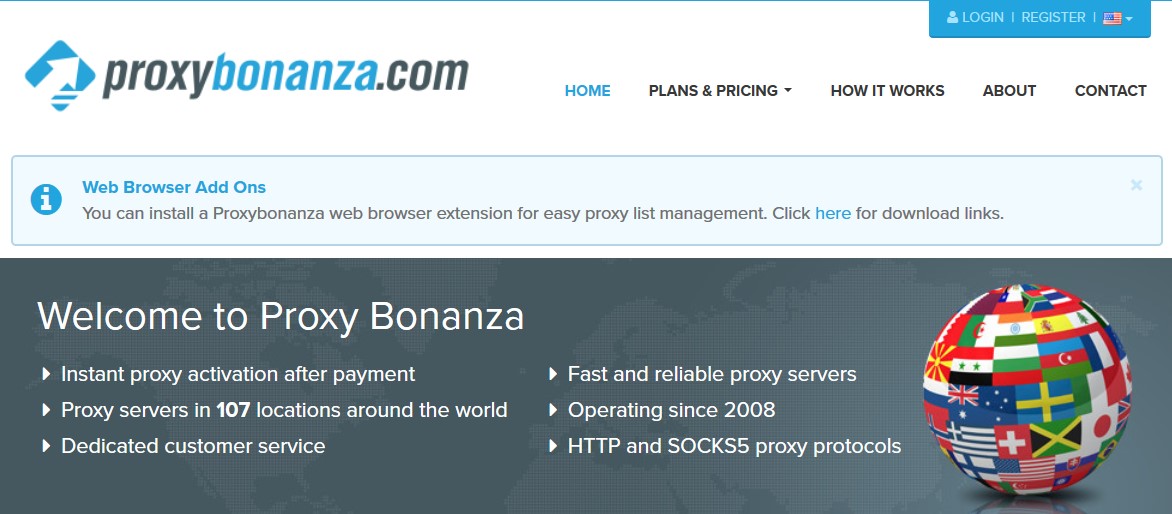 In regards with the aspect of what is allowed or not in ProxyBonanza, it is not clearly stipulated on their Terms of service. Even on popular sites such as Facebook, YouTube and the likes, ProxyBonanza could not give a guarantee that the proxies will work with these sites, pertaining to past abuse of the use of proxies.
However, before you subscribe for any proxy plan offered by ProxyBonanza, it might be good to read and understand the whole Terms of service. The proxies are used to gain access to restricted sites due to workplace policy or any reasons, but, if ProxyBonanza found out that what you are doing is illegal under their understanding, your account can be cancelled at once and you may not be entitled for a refund according to the company's discretion.
---
ProxyBonanza Features
Proxies Update: Every Couple of Months
Does Not Support: Scrapebox, Xrumer
Firefox Proxy Add-on
---
Pricing Plans
The prices of proxies vary according to the specific plan you are going to purchase. The cheapest proxy plan you can avail through ProxyBonanza is the Lite Shared Proxy plan worth $7.49 per month with its limited features. All proxy plans of ProxyBonanza, even the most expensive ones, do not have the unlimited bandwidth feature as compared to their competitors.
---
Customer Support
The company can be contacted for any queries through their email. Along with that, they have provided a detailed FAQ page. And, just like the majority of proxy providers, ProxyBonanza does not provide any contact numbers too.
---
Other Reviews
Best Proxy Reviews – The overall rating given for ProxyBonanza is 4 out of 5. Alongside, the site has provided detailed information about the company and its services. http://www.bestproxyreviews.com/best-proxy-review/proxybonanza-review/
VPN Reviews – A 4.5 star rating was given to ProxyBonanza, 5 being the highest. They have posted a very concise and informative review which can be very helpful for people who are on the look for the best proxy provider. http://vpnreviewz.com/proxy-bonanza-review/
VPN Central – ProxyBonanza was given a 4 out of 5 star`rating. Along with ProxyBonanza's features, VPN Central also gave a complete summary about the services given. http://vpn-central.info/proxybonanza
Private Proxy Reviews – On this site, ProxyBonanza was included on the Top Socks5 Proxy Service providers. A brief summary about ProxyBonanza has been laid out as well.
---
Our Take
ProxyBonanza got many proxy features that are really good, most especially if you are going to make use of the international proxies. However, the only downside is the fact that most of the competitors of this company already offer unlimited bandwidth, which they do not provide in any proxy plans they got.
One thing that may also turn off prospective customers is the fact that ProxyBonanza did not have a definite and clear ruling as to the limitations on the use of their proxies. Surely, a customer would not want to spend their money, only to find out that the purchased proxies cannot be put to use.
Don't forget to use the ProxyBonanza promo code urbence10percent promo code to get 10% discount.