There is only one discount code for Buyproxies.org at the moment (last updated: March 5, 2020). This discount code is only valid if you order 500 semi-dedicated proxies. Click here to order the proxies. If you follow this link, then you will find a special offer: you can buy 500 semi-dedicated proxies for 350 USD / month.
If you need dedicated proxies or less than 500 semi-dedicated proxies, then there is no valid coupon code at the moment (last updated: January 2017). I searched for codes on the internet and could not find any working coupons.
I even contacted Buyproxies, and they confirmed that they have no valid coupon codes, only the one above. Please note the previous coupon code "Imsick" doesn't work anymore!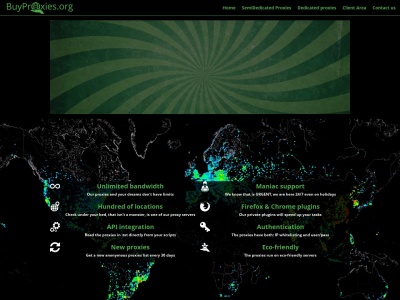 But I will send you my private PDF report, which contains my recommended SEO tools and services. This report is written by me and contains years of real SEO experience. You can save a lot of time and money with this exclusive report!
This report is a bonus for you if you order proxies from BuyProxies.org using my link below:
Click here to order proxies using Buyproxies.org!
After you made your purchase using my link, you have to contact me and send me these details: Your signup date (e.g. 2016/01/06), the name of the ordered service (e.g. 10 Dedicated proxies), and the amount you paid (e.g. $10.00 USD Monthly). Then I check my stats, and if you ordered using my link, I send you my exclusive SEO report via email.
---
Proxies with balls! This is a strong statement that describes BuyProxies.org as a whole. As compared to other companies offering proxies and related services, subscribing in BuyProxies.org has no limitations.
Certainly, no restrictions in using their proxies! Even, if you read the whole website, there are no AUP/ Acceptable Use Policy which would state the limitations in regards with the use of their proxies. Proxies can be used for Scrapebox, Xrumer, SEnuke XCr, gaming, downloads, and anything you want to do over the World Wide Web.

In over 9 years of being in the business, BuyProxies.org has won the hearts of many webmasters, veteran and newbie alike. With the amazing proxies' features, plus the competitive pricing plan, it is no doubt why the company has skyrocketed to success and fame among its subscribers.
BuyProxies.org offers both dedicated proxies and semi-dedicated ones. You can order for as little as 5 proxies of your choice per month and pay the minimum price package available. The semi dedicated proxies are shared by the other two users, so you do not have to worry about the speed or performance of the said proxies.
---
BuyProxies.org Features
Unlimited bandwidth
Fresh IPs every 30 days
No Program Restrictions
Proxies Protocol: HTTP
Multiple Subnets
---
BuyProxies.org Locations
US
UK
Netherlands
Switzerland
Germany
France
---
Pricing Plans
The prices of both dedicated and semi-dedicated proxies are way cheaper in BuyProxies.org than in any other sites.
And the price of each proxy gets cheaper as more will be ordered. Basically, the starting price of each dedicated proxy in BuyProxies.org is $2.00. The bigger the proxy plan you are planning to avail, the cheaper the cost is. As to the semi-dedicated proxies, the minimum package of 10 would only cost $10 all in all.
---
Customer Support
BuyProxies.org promised to cater all queries from customers at a speed of light seven days a week. There is only one way of contacting their customer support department and that is through submitting a ticket of your specific concerns, queries or complaints. The company has reliable and knowledgeable agents to assist you in all your needs.
---
Other Reviews
---
Our Take
Indeed, subscribing to BuyProxies.org is worth all your money, time and effort. They are one of the companies that provide no-nonsense proxies and services.
More so if you are one of people who can't push through certain online tasks just because of the restrictions posted by other proxy providers, you will definitely enjoy working more using the proxies offered by BuyProxies.org.