Trusted Proxies was founded by Paul Rosenthal in 2009. The company's aim is to provide Enterprise Class Private Proxy Servers which are reliably fast and secure and are geo-targeted. This simply means that you can get fast results straight from the specific country you are aiming for.
The proxy servers offered can only be used for "White Hat" search engine and internet marketing businesses. Although they have a wide variety of both dedicated proxy and virtual or shared proxy servers, Trusted Proxies' services are only directed to valid Internet marketers, not the "Black Hatters". So, no black hat SEO activities allowed such as Craiglist Ads postings, Xrumer, scraping, mass mailing, and many others. You may check out the company's terms and conditions before availing their services o have maximum use of the purchased proxies.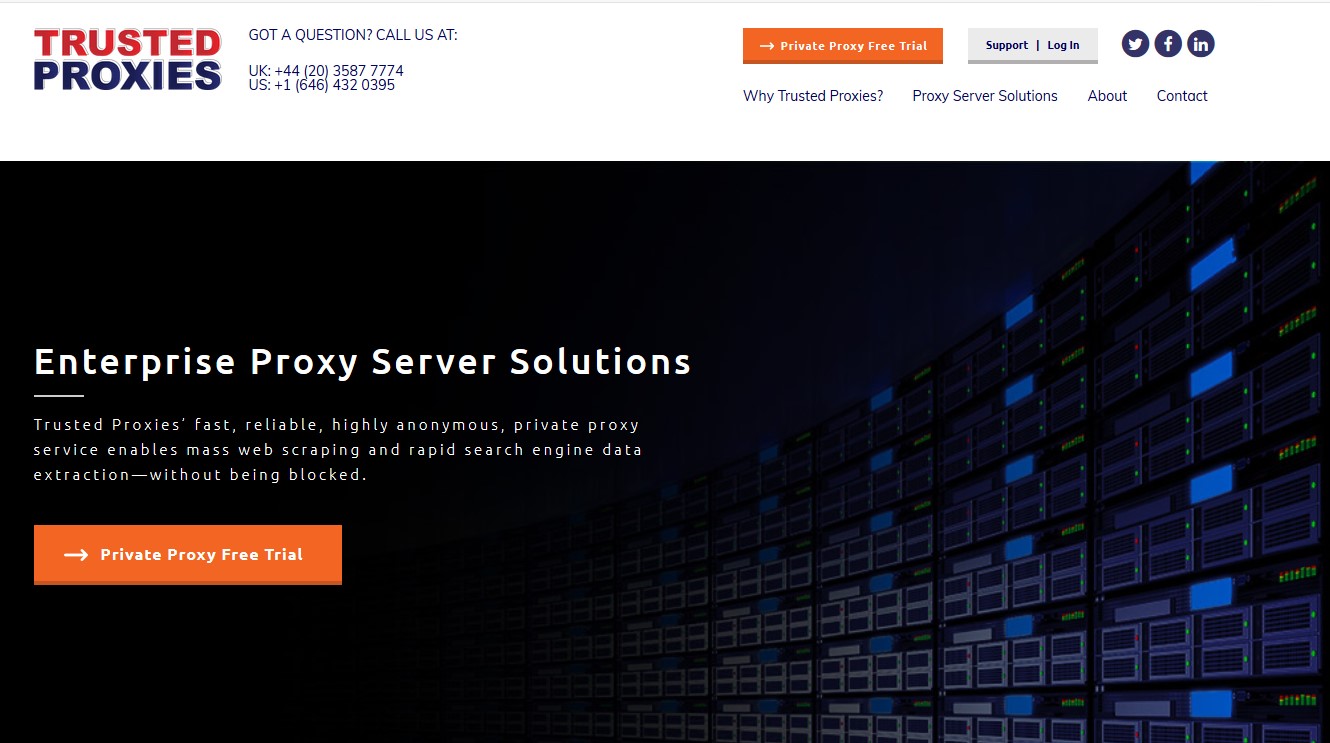 ---
Trusted Proxies Features
No Black Hat Policy
Offers Corporate Proxy Service Solutions
Unlimited Bandwidth for Dedicated Servers only
Supports SEM, Anonymous Browsing, Web 2.0, Scrapebox
HTTP Proxies, Shared Proxies, Dedicated Proxies, and Geo-targeted Proxies
---
Trusted Proxies Locations
UK
US
You can either choose a specific target country or any metropolitan area of your choice
---
Pricing Plans
There are numerous proxy plan categories offered according to the needs and the prices you can afford. For personal usage of proxies, there are various proxy plans to choose from. And, for big organizations which need more advance proxy plans, there are also lots to choose from. However, if compared to other online proxy providers, the prices of proxies in Trusted Proxies are pricier. But, if you choose reliability and higher quality, then, you would not mind the cost, and instead go on with your purchase.
---
Customer Support
Before you can actually decide for your purchase of proxy, you are given the opportunity to submit an inquiry ticket to Trusted Proxies. The company promised to answer all emails and queries within hours after you send it. Alongside, you can send message through Trusted Proxies' mailing address. But, if you want quick and direct access to one of their agents, there are phone numbers provided for US, UK and international customers.
---
Other Reviews
---
Our Take
If you want credible proxy provider, then, there is no need to go elsewhere as Trusted Proxies can give you the best proxies alongside high quality of service and customer support. On our review, Trusted Proxies is currently on the 6th spot. They are one of the proxy providers which we highly recommended.